National Customer Service Week "Reigniting a Culture of Care"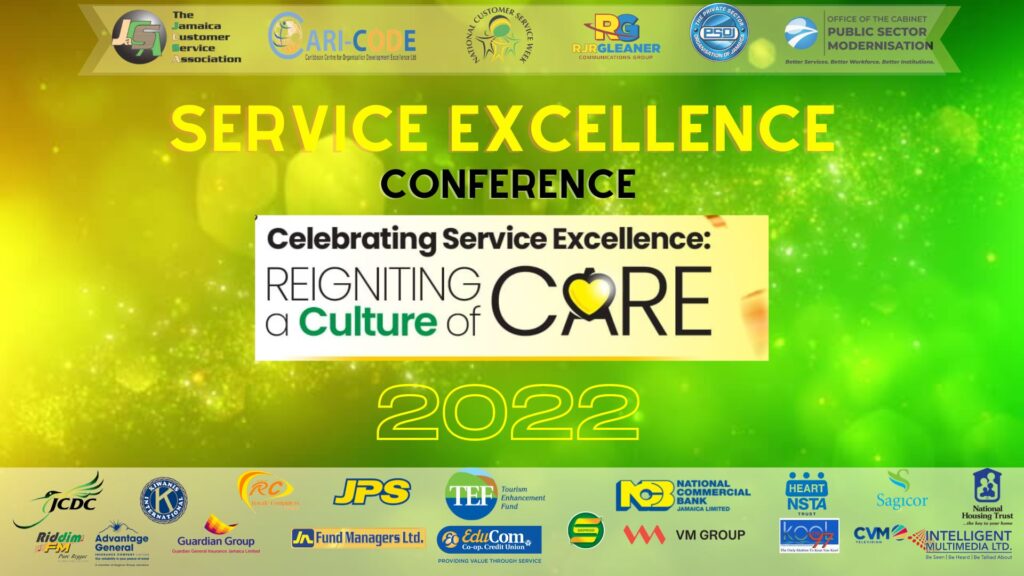 Here's a preview of the day's exciting topics and events:
Day 1
Opening Address: Yoni Epstein, Founding Chairman & CEO of itelCX  "Service Excellence: Implications for the Global Skills Sector"
Keynote Speaker:  Adam Stewart, Executive Chairman, Sandals Resorts International,  "Reigniting a Culture of Care: A Leading Hotelier's Perspective"
Speaker: Oliver Mair, Consulate General of Jamaica, Miami, spoke about  "A Culture of Care: Connecting Our People" 
Private Sector Forum – "Why Should We Care?" The Emotional Connection, Organizational Culture of Care, and Productivity & Customer Acquisition/Retention
Closing Speaker, Rochelle Cameron, CEO, President Consulting Services Ltd., spoke to us about "A Culture of Resilience, Determination and Commitment to Excellence!"
Day 2
Opening Speaker: The Honourable Edmund Bartlett, Minister of Tourism, spoke on, "A Culture of Care: Catalyst to Jamaica's Global Tourism Achievements".
Keynote Speaker: Dr. Claire A. Nelson, White House Champion of Change, Author, Chief Futurist & Ideation Leader, The Futures Forum, who shared her perspective on "The Future of Service Excellence in a Post COVID-19 World".
Speaker: Keith Duncan, President, Private Sector Organisation of Jamaica & CEO, JMMB Group outlined how "PROJECT STAR: Aligned to a Culture of CARE" will help us a nation. We all need to come together to ensure that this project works successfully. 
Public Sector Forum – "Reigniting A Culture of Care by Engaging Customers and Meeting Their Needs"  moderated by Ms. Taniquea Callam, Modernisation Programme.
Closing Speaker: Dr. Henley Morgan, Management Consultant, Founder & Chairman, Agency for Inner City Renewal (AIR) who spoke about "A Culture of Care: Key Ingredient to Community Transformation"
Let's reignite the passion and drive for service excellence and develop a culture of care for service professionals!
Click here to watch Replays: https://hopin.com/events/ncsw-service-excellence-conference-2022